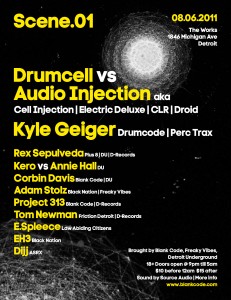 SCENE.01 . Shot in Detroit
++++++++++++++++++++++++++++++++++++++++++++
Brought by Blank Code / Freaky Vibes USA / Detroit Underground
++++++++++++++++++++++++++++++++++++++++++++
Date . SATURDAY AUGUST 6, 2011
++++++++++++++++++++++++++++++++++++++++++++
DRUMCELL vs AUDIO INJECTION aka "CELL INJECTION" LIVE
CLR/Droid
Drumcell & Audio Injection will be playing live as "Cell Injection". Recently they have been headlining some of the most highly regarded Techno Nightclubs & Festivals around the world. Not only will this be the first time Detroit will get to hear this duo play Live together, this will also be Audio Injection's Detroit Debut! We've all heard the recent releases that keep flooding top ten charts from both of these guys, we finally get the chance to hear what this is all about. From the 7hr Berghain tag set that was used on Chris Liebing's CLR Podcast to the reputation Droid has in the North American Techno industry this set is sure to please anyone interested in Electronic Music. Come out and show these LA natives how Detroit knows a thing or two about techno and support what represents the best New Techno coming out of North America right now!
Find out more information on both Drumcell and Audio Injection @
www.droidbehavior.com
www.audioinjection.com
www.soundcloud.com/drumcell
www.facebook.com/pages/drumcell/136557929699598
www.soundcloud.com/audioinjection
www.facebook.com/AudioInjection.LA
www.youtube.com/drumcell
++++++++++++++++++++++++++++++++++++++++++++
KYLE GEIGER
Drumcode/Perc Trax
Since being named in DJ Mag as the "breakthrough DJ of 2008" by Adam Beyer, the years following have proven to be nothing short of that title for Kyle Geiger. Within the first year of his premier vinyl release, Kyle achieved international notoriety, a feat that many never accomplish in their entire career as a DJ/producer. With multiple European and South American tours under his belt already, including two performances at the widely touted Berghain in Berlin (Voted by ResidentAdvisor.net as the 1 club in the world), rounded off with a stop at the Dance Valley festival in Amsterdam this summer. With highly regarded releases on Drumcode, MB Elektronics, and Perc Trax, as well as remixes for Trapez, Droid, Renovatio, plus having his tracks played by all the heavy hitters, the future is proving to be a very promising place for Kyle Geiger as he continues to take his widely recognized DJ set around the world and to the next level.
Find out more info on Kyle Geiger @
www.kylegeiger.com
www.facebook.com/kylegeigermusic
www.soundcloud.com/kyle-geiger
++++++++++++++++++++++++++++++++++++++++++++
WARM UP SETS BY:
REX SEPULVEDA
Plus 8/D-Records/DU
www.residentadvisor.net/dj/rexsepulveda
www.facebook.com/rex.sepulveda
PROJECT 313
Blank Code/D-Records/Friction
www.blankcode.com
www.soundcloud.com/project-313
www.facebook.com/pages/Project-313/110869155620240
KERO vs ANNIE HALL
DU/D1Recordings
www.detroitunderground.net
www.soundcloud.com/kero-fm
www.facebook.com/www.kero.FM
www.soundcloud.com/annie-hall-dj
www.facebook.com/profile.php?id=541778994
ADAM STOLZ
Freaky Vibes/Black Nation
www.soundcloud.com/adamstolz
www.facebook.com/profile.php?id=100000484604760
DIJJ
ASRX/Subsequent Records
www.asr-x.com
www.soundcloud.com/asrx
www.facebook.com/ASRXDetroit
CORBIN DAVIS
Blank Code/DU/ASRX
www.blankcode.com
www.facebook.com/profile.php?id=606329571
E.SPLEECE
Law Abiding Citizens
www.soundcloud.com/espleece
www.facebook.com/espleece
EH3
Black Nation
www.soundcloud.com/eh3
www.facebook.com/oEH3o
Sound by Source Audio
The Works + 1846 Michigan Ave + Detroit, MI
More info TBA
Stay Tuned…