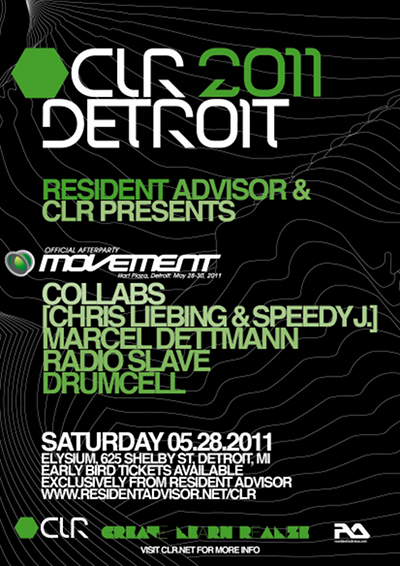 ▪▪▪▪▪▪▪▪▪▪▪▪▪▪▪▪▪▪▪▪▪▪▪▪▪▪▪▪▪▪▪▪▪▪▪▪▪▪▪▪▪▪▪▪▪▪▪▪▪▪▪▪▪▪▪▪▪▪▪▪▪▪▪▪▪▪▪▪▪▪
Saturday, May 28th CLR heads to Motor City for an official Movement Afterparty with a world-class line-up. 5 DJs will be taking over 2 floors of Elysium nightclub for a night of pure underground Techno Music. The lineup includes Chris Liebing and Speedy J teaming up for their Collabs project, Radio Slave, Marcel Dettmann and Drumcell. More acts to be announced soon.
Collabs featuring two of the most recognized forces in Techno music, Chris Liebing and Speedy J, are making their long-awaited return to Detroit. Joining forces, they combine masterly experimental sound manipulation and design with peak time techno drama, creating magnificent main floor magnets. The focus of their shows is collaboration and improvisation, blurring the boundaries between DJing and playing live.
Radio Slave creates hallucination-evoking, bass-burrowing dancefloor tracks and is one of the main men in the European, and global, dance scene. His productions, remixes and DJ sets have only one aim: to make you move – inside and out.
Resident of the legendary Berghain in Berlin, Marcel Dettmann will be delivering his signature style of modern, solid and fresh Techno. Using production techniques tailored to fit the club's acoustics, he is known for expertly sculpting organ-realigning bass frequencies.
Drumcell, founder of Droid Recordings and co-founder of Droid Behavior in LA, has toured all over the globe spreading the Techno Gospel by getting the world moving and banging their heads to new sounds. His set at Elysium will be no different.
CLR is known for perfect entertaining qualities, ecstatic live performances, customized visual shows, and uncompromising modern Techno. Join us for a top-notch electronic music experience.
▪▪▪▪▪▪▪▪▪▪▪▪▪▪▪▪▪▪▪▪▪▪▪▪▪▪▪▪▪▪▪▪▪▪▪▪▪▪▪▪▪▪▪▪▪▪▪▪▪▪▪▪▪▪▪▪▪▪▪▪▪▪▪▪▪▪▪▪▪▪
EARLY BIRD TICKETS AVAILABLE EXCLUSIVELY ON RESIDENT ADVISOR
http://www.residentadvisor.net/event.aspx?257522
$15 – $20 – More at the door
▪▪▪▪▪▪▪▪▪▪▪▪▪▪▪▪▪▪▪▪▪▪▪▪▪▪▪▪▪▪▪▪▪▪▪▪▪▪▪▪▪▪▪▪▪▪▪▪▪▪▪▪▪▪▪▪▪▪▪▪▪▪▪▪▪▪▪▪▪▪
Saturday, May 28th 2011
CLR Detroit 2011 – Official Movement Afterparty
Elysium Nightclub, 625 Shelby St, Detroit, MI
Just minutes away from the Movement Festival grounds
10pm – 5am
18+
Presented by Resident Advisor
▪▪▪▪▪▪▪▪▪▪▪▪▪▪▪▪▪▪▪▪▪▪▪▪▪▪▪▪▪▪▪▪▪▪▪▪▪▪▪▪▪▪▪▪▪▪▪▪▪▪▪▪▪▪▪▪▪▪▪▪▪▪▪▪▪▪▪▪▪▪
CHRIS LIEBING
www.clr.net
www.facebook.com/chrisliebingofficial
www.myspace.com/chrisliebing
www.youtube.com/createlearnlealize
SPEEDY J
www.speedyj.com
www.electricdeluxe.net
www.myspace.com/jochempaap
RADIO SLAVE
www.rekids.com
www.facebook.com/radio.slave.official
MARCEL DETTMANN
www.myspace.com/marceldettmann
www.facebook.com/pages/MARCEL-DETTMANN/50781834567?ref=ts
DRUMCELL
www.droidbehavior.com
www.myspace.com/drumcell
www.youtube.com/drumcell
▪▪▪▪▪▪▪▪▪▪▪▪▪▪▪▪▪▪▪▪▪▪▪▪▪▪▪▪▪▪▪▪▪▪▪▪▪▪▪▪▪▪▪▪▪▪▪▪▪▪▪▪▪▪▪▪▪▪▪▪▪▪▪▪▪▪▪▪▪▪
UP-COMING CLR EVENTS:
14.05.11 :: CLR @ Berghain
28.05.11 :: CLR @ Movement – Elysium
18.06.11 :: CLR @ Sonar – Row 14
24.06.11 :: CLR @ Amnesia Ibiza
07.08.11 :: CLR @ Solar Weekend Festival
For more info on CLR Events worldwide, visit www.clr.net
▪▪▪▪▪▪▪▪▪▪▪▪▪▪▪▪▪▪▪▪▪▪▪▪▪▪▪▪▪▪▪▪▪▪▪▪▪▪▪▪▪▪▪▪▪▪▪▪▪▪▪▪▪▪▪▪▪▪▪▪▪▪▪▪▪▪▪▪▪▪
CREATE LEARN REALIZE
▪▪▪▪▪▪▪▪▪▪▪▪▪▪▪▪▪▪▪▪▪▪▪▪▪▪▪▪▪▪▪▪▪▪▪▪▪▪▪▪▪▪▪▪▪▪▪▪▪▪▪▪▪▪▪▪▪▪▪▪▪▪▪▪▪▪▪▪▪▪